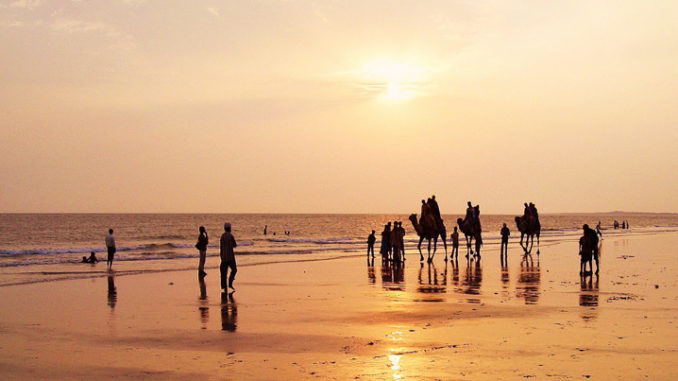 Best Places To Visit In Kutch | Kutch Tourist Places | Mandvi Kutch | Southern Kutch Tour Plan
---
Bhuj TO Mandvi Distance is 55KM,Best Places to Visit in Mandvi are following:
72 Jinalay | Best Places to Visit in Mandvi
This 72 Jinalaya is a Jain Pilgrimage and home to 72 Deris of Lord Mahavir. This beautiful temples are located at Mandvi road and spread across approximately 80 acres. Locally it is knowing as "Bauter Jinalay".it is Best Places to Visit in Mandvi
It is also known as "Adishwar Bauter Jinalay Mahatirth". 'The Spiritual Terrian' takes you to all spiritual places of Jainism at just one click.
#JainTemple #JainMandir #Derasar #JainTirth This temple complex by Acchal Gachhadhipati Acharya Shri Gunasagar Sureshwarji.
In the temple, there is a 73 inch long idol of Mulnayak Lord Adishwar and in the Rang mandap there is an ancient idol of Lord Parshavanath. The Rang Mandap is 1008 square feet in area, where one can seek frames of various important temple made in glass artwork.
For the convenience of devotees there are dharamshala, upashraya and bhojanshala that provide saatvik food. #Mulnayak #Adinath #Rishabhnath #Adishwar #Tirthankara Mulnayak of this temple is Lord Adinath thats why this is Best Places to Visit in Mandvi as well as Best Places To Visit In Kutch
Rishabhanatha was born to King Nabhi and Queen Marudevi in Ayodhya, on the ninth day of the dark half of the month of Chaitra-caitra krişna navamĩ.
This is the second auspicious event and is knowing as Janma Kalyanaka. Like all tīrthaṅkara and other legendary figures of Indian history Rishabhnatha too was a great warrior with great strength and body.
However, he never needed to show his warrior aspect. Rishabhanātha is knowing for advocating non-violence. He was one of the greatest initiators of human progress.
#72 JinalayaTirth #72 Jinalaya #Bhuj #Kutch #Gujarat #Talwana #MandviBhujNationalHighway 72 Jinalaya is one of the important pilgrimage sites in Jainism in Gujarat. This temple complex is accessible from Mandvi-Bhuj National Highway at the borders of Talwana village.
#Jainism #JainReligion Jainism is one of the oldest religions that originated in India.
Adherence of this religion follow three main principles, are ahimsa or non-violence, anekantavada or non-absolutism, and aparigraha or non-possessiveness.
#KutchiCulture #GujaratiCulture #Kutchi #Gujarati Kutch is a district locate in the Indian state of Gujarat. Culturally the region is distinct from the rest of Gujarat as they speak their local language Kutchi.
Kutchi is similar to the Sindhi language spoken in the neighboring state of Sindh, which lies today in Pakistan,this place is Best Places To Visit In Kutch that you shouldn't miss.
Vijay Vilas Palace – Mandvi | Best Places to Visit in Mandvi
The palace was built during reign of Maharao Shri Khengarji III, the Maharao of Kutch,
it is summer resort for his son & heir to the kingdom, the Yuvraj Shri Vijayaraji and is therefore, named after him as Vijaya Vilas Palace.This is one of the Best Places to Visit in Mandvi
Rann of kutch best time to visit is december as well as tourist can enjoy lots of things with rann of kutch festival kutch tourism is the best for any age group,Kutch is the biggest district of india thats why tourist can enjoy type of tourism into the kutch
Nearest railway station near rann of kutch is bhuj kutch and distance between bhuj and rann of kutch is 85KM
Tourist can Hire vehicle online in a kutch with best price :

Click Here
As well as visitors can enjoy and explore lots of more things with rann of kutch tour packages
Kutch Tour Packages | Starting from 5500/Person
Guaranteed with Best Quality + Best Prices + Lots of Best Memories
The construction of palace started in year in 1920 and was completed in year 1929.
The palace is built with red sandstone. It has all the elements of Rajput architecture and draws largely on the plan of palaces of Orchha this palace is one of the Best Places to Visit in Mandvi
The central high dome on the pillars the Bengal domes on the sides, the windows with colored glass, carved stone 'jalis', domed bastions at the corners, extended porch and other exquisitely stone-carved elements, make the palace worth visiting.
The palace is in the middle of gardens with water channels and marble fountains.
The carved stone works of Jalis, Jharokas, Chhatris, Chhajas, murals and many other artistic stone carvings, colored glass work on windows and door panels all have been done by the architect and craftsman from places like Jaipur, Rajasthan, Bengal and Saurashtra, and local Kutchi artisan community,
The Mistris of Kutch and Suthars. The mixture and mingling of architect and style of different regions of India, as such, can be distinctly seen in design & architect of the Vijaya Vilas Palace.The balcony at the top affords a superb view of the surrounding area.
The tiny intricate windows gives one feeling to be out in open, through which cool sea wind passes out.
Vijaya Vilas Palace has its own private beach which offers air-conditioned tented accommodation.
The palace has been used as the set in many Hindi films and has now become a popular tourist destination. Popular Bollywood films Hum Dil De Chuke Sanam and Lagaan were shot at this palace.
The royal family of Princely State of Kutch now reside permanently in the palace, who earlier used it only as a summer resort. After the 2001 Gujarat earthquake in which one of the wings of their other palace at Bhuj – the Ranjit Vilas was heavily damaged, they moved into Vijaya Vilas Palace it is really Best Places to Visit in Mandvi. The Palace also houses a museum.
Ambe Dham Temple Godhra, Kutch, India
Ambe Dham Temple Godhra, Kutch, India is a temple with a museum where creation of magnificent views in form of model art for scene from the mythology are created giving a glimpse to visitors of events that turned history in the bygone era.it is Best Places to Visit in Mandvi quite interesting display of dolls used to depict the stories and a thrill to watch and read the notations described for it..
Book your kutch tour packages and rann utsav packages : Click Here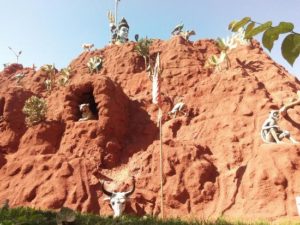 Mandvi Beach | A visit to Windfarm beach-Mandvi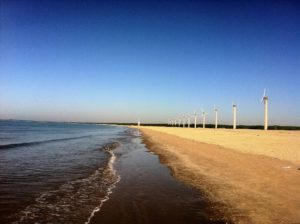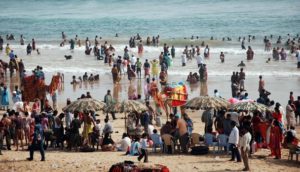 Mandavi Beach is not much crowded beach like rest of Beaches its quite & Clam, and must see Place if your are traveling towards "White Rann Of Kutch" as it close to Bhuj Road is in perfect condition and you can be their easily and after coming from salt a visit to Beach will make your trip perfect wind farm beach is one of the Best Places to Visit in Mandvi  and if you are luck enough you will also be able to see FLAMINGO their is also mandvi palace which is old one and nice palace to visit, A day is enough for Mandvi to Visit I would recommend this place only if you are traveling towards Rann of Kutch and other Best Places To Visit In Kutch
Tourist can book the rann of kutch hotels and hotels in mandvi and bhuj with best budget prices :
Click Here
Beaches have always allured me towards its calm and peaceful environment. Windfarm beach as the name suggest having a windmills that are line up
one end of the beach that generates electricity for the area around. It is popularly calling as Mandvi's "Juhu beach"(One of the beaches of Mumbai, INDIA), but frankly it is way cleaner than any beaches of Mumbai one of the Best Places to Visit in Mandvi
Visitors can enjoy kite festival in windfarm beach mandvi with lots other visitors and locals it is pleasure to enjoy kite festival in a windfarm beach this is Best Places to Visit in Mandvi which shouldn't miss.
Kutch Guide is including mandvi in a tour packages tourist can enjoy and explore Best Places to Visit in Mandvi with this  Kutch Tour Packages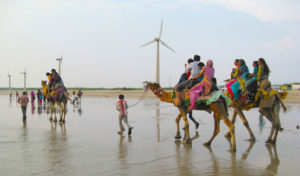 People here can have a small walk along the pleasant water, or play around or can just go for swimming. They have some wonderful snacks to serve
Some of the yummy chaats, fresh coconut water and various other delicious drinks this is one of the Best Places To Visit In Kutch. I had been here in the evening and the climate was very pleasant with the rains making it more salubrious.
Shyamji Krishna Varma Memorial
The British ruled over India for over two hundred years. They ruthlessly exploited India's economic resources and mercilessly oppressed the people. Many individuals took on the might of the British to free India. Shyamji Krishna Varma chose to take this fight to British soil and made London his base.
Shyamji Krishna Varma was born on 4th October, 1857 in Mandvi Kutch district of Gujarat. He was one of the foremost freedom fighters in the history of the freedom movement of India with high sense of patriotism and selfless service for the nation. He had organized a revolutionary center in "India House" at London and propagated the cause of India's independence through his writings in his publication journal called The "Indian Sociologist"
Shyamji Krishna Varma was not alone in his work. He join by many other great radical Indian Nationalists who are committ to free their motherland from the yoke of British rule. Many great revolutionaries made the supreme sacrifice and laid down their lives to see their country free, both in India as well as abroad.
The Memorial's objective is to pay tribute to the contribution of Shyamji Krishna Varma and also to educate the young generation about those great Indians who sacrificed everything for the country's freedom must say that this is Best Places to Visit in Mandvi that every tourist don't miss.

Well made, well maintained memorial. The complex has a replica of India House, London, which was the residence of Shyamji Krishna Varma. There is an auditorium on the ground floor of the building where they show visitors a 20 minute video detailing the life & activities of the man. But the best bit is the expansive uninterruping view of Mandvi beach from the 2nd floor. Do take advantage of the cafe & toilet facilities in the complex. Mandvi is the perfect destination for one picnic and family
Timings
The memorial is open to all visitors 6 days a week from
10:00 A.M. to 6:00 P.M. and on Sat/Sun 10:00 A.M. to 8:00 P.M. The memorial will be close on all Thursdays.
In order to protect the works of art and create a safe environment for all patrons,
please observe the following policies:
| | |
| --- | --- |
| | Please do not touch the works of art. |
| | Food and drink are not allow within the galleries. |
| | Smoking is not allow in the building. |
| | Backpacks and bags larger than 8 x 10 x 12 inches will be check. – Smaller bags would carry on one shoulder or handheld. |
| | The use of pens is not allow in the galleries; you can have pencils use for taking notes or sketching. |
| | You can take photographs  without flash, using natural light, in most areas of the memorial. |
| | Please be considerate when using cell phones. |
| | Please do not sit or step on platforms or ledges. |
| | Children 12 and under must be accompanied by an adult. |
| | The memorial connects visitors with disabilities to the world of art through a wide variety of unique accessible programs. |
How to get there (Mandvi Kutch)
By road: 

S.T. Bus from Mandvi S.T. Depo start at 11.00 AM Mandvi and reach at Kranti Teerth at 11.15
Return Kranti Teerth at 1.45 PM after reach to Dhrabudi Tirth, Gundiyali etc.
By rail: 

Bhuj is connected by trains from Ahmedabad, Mumbai and Delhi.
By air: 

Flights are available from various cities to Bhuj which is the nearest airport to Mandavi.
---
To know more about Kutch Tourism | Best Places to Visit in Gujarat | Best Places to Visit in Kutch : 

Click Here
Take Online Tour of Kutch : Click Here
Kutch Tour Packages are available from 5500/Person
Kutch Tour Packages | Rann of Kutch Packages |Rann Utsav 2017-2018