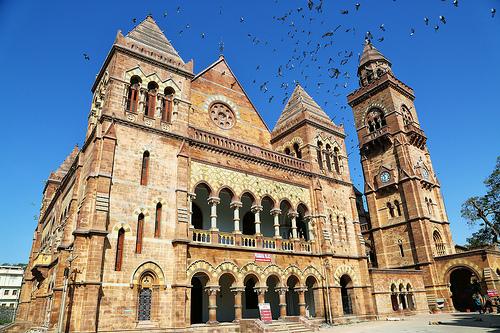 Best Place to Visit in Bhuj Part – 3
---
Prag Mahal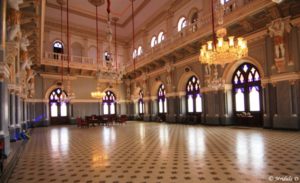 Next door to the Aina Mahal, in the same walled compound, is the giant Prag Mahal, it is one of the Best Place to Visit in Bhuj which may at first seem slightly out of place at the far western edge of India, looking more appropriate in France. But then again, globalization is not a new phenomenon. This palace is Best Place to Visit in Bhuj commissioned by King Pragmalji in the 1860s, designed by Colonel Henry Saint Wilkins in the Italian Gothic style and built in the middle of Bhuj next to the Aina Mahal. must see in bhuj While little about it may seem Indian, there are elements; see if you can find them. In the courtyard behind the palace, there is a small Hindu temple with very nicely carved stonework; the caretaker is sometimes available for more information.
Inside the palace, you can visit the main palace halls as well as climb stairs of the 45m bell tower for an exhilarating view of the city it is an Best Place to Visit in Bhuj. After coming down (not before, for your own peace of mind!), check out the cracks between the stones in the wall, visible from the courtyard, caused by various earthquakes over the years. Then stop for a glass of fresh sugarcane juice on your way out of the compound.
Time :  9:00 am to 12:00 am
3:00 pm to 6:00
Closed : Public Holiday
Charges : Rs. 20/-
Charges for Photography     Rs.30/-
Charges for Video Shooting     Rs.100/-
Location:
Situated next to the Aina Mahal in the same compound.
The 2001 Gujarat earthquake severely damaged the palace.In 2006, the palace was burgled, with thieves stealing antiques worth millions of rupees and damaging other items throughout the palace.
Kutch Tour Packages are available from 5500/Person
Kutch Tour Packages | Rann of Kutch Packages |Rann Utsav 2017-2018