Click the image to watch
Animated video series of kutch tour plan
Rann of Kutch Tour Package Categories with best price guaranteed :
Watch Rann of Kutch Tour Package Inclusions & Full Kutch Travel Itinerary
---
Day : 1
Pickup from station/airport | Bhuj TO Bhuj(Personal) & A'bad TO A'bad(Group) for Rann of Kutch Tour Package
Arrival and Check in & Breakfast at Hotel/Resort at Bhuj (Center point of kutch) For Deluxe Package
If you are in Swiss Tent OR Heritage Package then we'll have a Breakfast,Refreshment and proceed
Departure to Rann of Kutch in a early morning time include visited places in kutch on route
Watch Rann of Kutch Travel Vlog –> Click Here

Visit Rakshak Van – Reserved Forest

Visit Black Hill – Historical Temple of lord Dattatreya,Beauty of nature and panoramic Top view of rann of kutch
Enjoy Magnetic Field at Black Hill
Visit Handicraft Village Gandhi nu Gaam – Handicraft hub and witness of village life
Check in to Traditional Resort at Rann of kutch (Swiss Tent OR Traditional Heritage Huts/Bhunga)
Have Unlimited Authenticate Unlimited Gujarati Lunch
Visit Great Rann of Kutch and Rann utsav

Enjoy camel ride and explore Rann of kutch

Have joy of amazing sunset and spend some quality time best amazing photography

Explore theme pavilion of Gujarat Tourism and many adventure activities

Enjoy local food and handicraft Market

Back to the Resort enjoy traditional cultural activities,Bonfire & Music Activities have a dinner and take a rest at Resort – If u are in Deluxe Package then we will come back to bhuj (Cultural Activities not include in Deluxe Package all other inclusions are same)
---
Day : 2
---
👉 Pickup & Drop Facility
👉 ACDeluxe Rooms | For Deluxe Package
👉 AC Swiss Tents | For Swiss Tents Package
👉 AC Royal Kutchi Huts/Bhunga | For Heritage Package
👉 Variety of Breakfast & Tea-Coffee,Soft-drinks
👉 Variety of Authenticate Lunch & Dinner
👉 Personal AC car with Driver 
👉 Full kutch sight-seen
👉 Unlimited & Flexible timings for burden free trip
👉 Free tour plan itinerary | Rann of Kutch Tour Package
👉 All the taxes & permit charges
👉 Personal Assistance
👉 Surprise Destination 
👉 Tourist Guide (If required-Chargeable Basis) | Rann of Kutch Tour Package
---
"Contact us for best budget deal high service with economic budget "
Click and follow this for my Travel Updates

 https://www.facebook.com/kutchguide.in/
 https://www.youtube.com/c/VaibhavVlogs
 https://www.instagram.com/vaibhav.vlogs/
||Contact us||
Vaibhav Pujara
Owner,www.kutchguide.in/
Drop your inquiry on whatsapp to get a full tour plan details
Mo.90677 59250 | 90 8100 2020
E-mail : kutchguide17@gmail.com
Contact us or feel your detail and requirements in this form
Book Online
**Our Services in GUJARAT for Tourist**
 Rann of Kutch & Full Gujarat Tour Packages
 Event & Celebrations Planing  

 Hotel Booking
 Vehicle Hiring
‍ Tourist Guide
 Movie Shoot (Locations & Local crew)
 Handicrafts
 Food Services 
 Travel Itinerary
Rann of Kutch Tour Packges


Starting from 5500/Person | Including Full Sightseen

Take a Online Tour of Kutch-Gujarat
Watch this animated Kutch Tour Plan videos

=> https://youtu.be/4DjZCTtqdzg

=> https://youtu.be/TSVGpKfMi30

=> https://youtu.be/sP3-otTTgSg

=> https://youtu.be/3I0BqoUx8kg

Get the quality & lots of memories with us

=> https://youtu.be/NEZAxukG-gQ

=> https://youtu.be/gXCry6CcMQ4

=> https://youtu.be/ralOO4u4lwY

Find the best memorable destinations & budget deals with us

Rann of Kutch Tour Package Inclusions
Super Deluxe Rooms
Royal Kutchi Huts
Personal AC Car
Food
Permissions
Tourist Guide(If required)

** Book your Rann of Kutch Tour Package online **

||Contact us||
Mo.90677 59250
Mo.90 8100 2020

e-mail : kutchguide17@gmail.com
website : www.kutchguide.in
FB : https://www.facebook.com/Kutchguide.in/

#Rann of Utsav 2017 – 2018 – Package Starts from Rs. 5500/-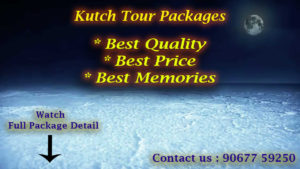 Rann of Kutch Tour Packages are available from 5500/Person
Kutch Tour Packages | Rann of Kutch Tour Package |Rann Utsav 2017-2018
Enjoy classic and traditional music,dance folk shows,and the beauty of nature at lands of Kutch
Our Rann of Kutch Tour Packges creates lots of life time mewmories for you and your family
Kutch, one of the most ecologically and ethnically diverse district of the state is a celebratory land of art, crafts, music, dance, people and nature. During the full moon night of the winters amid the awe-inspiring and contrasting landscape
Each year a three day festive extravaganza brimming with hospitality, vigor and traditional flavor of the area is hosted and known as the Rann of kutch festival or Rannutsav.
This Rann of kutch festival at the various locales within Kutch takes one around the natural grandiose while introducing the visitor to the indigenous cultural and ethnically flavor of the people.
While an array of folk music and dance performances organized in the shimmering moonlit landscape provides the most enchanting experience. The colorful fairs held near the beach or the banks of a lake swings one with the spirit of festivity, fervor and flamboyancy while the organized tour around Kutch is an ideal occasion to be part of the region and experience the zeal and uniqueness of the people through a celebration of life!