Rann utsav 2017-18 Tour Packages |5500/Person Including Full Sightseen
---
Kutch Tour Packages | Rann of Kutch Packages |Rann Utsav 2017-2018
---
---
Kutch-Place of Memories
Kutch district is a district of Gujarat state in western India. Covering an area of 45,674 km?, it is the largest district of India. The population of Kutch is 2,092,371+..kutch tourism is populer for Rann of kutch with Rann of Kutch Tour Packages u can enjoy this beauty of nature
Kutch literally means something which intermittently becomes wet and dry; a large part of this district is known as Rann of Kutch which is shallow wetland which submerges in water during the rainy season and becomes dry during other seasons. The same word is also used in Sanskrit origin for a tortoise.
Kutch is probably one of the most beautiful, yet surreal places in India. With the vast expanses of white salt desert in the Great Rann of Kutch area, this is an amazing experience to witness.One would be able to see just stretches of pure white land as far as the eyesight goes.
Kutch tourism having types of tourism like many Picnic spots,family holidays,historical places,adventure place and much more Best Attractions and Best Places to Visit in Kutch will be covered with our kutch tour packages…rann of kutch best time to visit is December rann of kutch tourism is memorable trip for any group of age
The place comes to life during the winters when the Rann Festival is held during December-February everywhere in which there are huge camp settlements with cultural programs, functions and adventure activities like hot-air ballooning its also known as rann utsav…where you can have stay in traditional heritage kutchi house,tents,and mud house.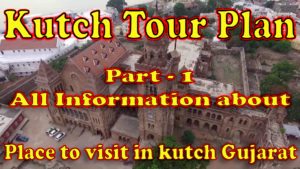 Click this image to watch Full Kutch Tour Plan
with our Kutch Tour Packages you can enjoy your entire trip without any worry…
Kutch is also among the largest district of India with a terribly low population density,kutch tourist places are best for a family time spending,picnic and vacation tours..We are having Group Booking Facility for schools and colleges find your best budget deal with us in kutch tour packages and Rann of Kutch Tour Packages
Also, Kutch lies on the India-Pakistan border and you can see parts of Pakistan from Kutch. Kutch is also famous for crafts and embroidery works, Flamingo Sanctuary and Wild Ass Sanctuary. Bhuj is an ideal starting point to visit the Rann of Kutch. Beautiful beaches of Mandvi kutch near Bhuj are also totally worth visiting during your trip to Kutch. Don't miss to see the ancient town of Dholavira(Part of harappa and mohenjo daro)
Here we mentioned 10 Best Places to visit in Kutch (2017)
Aina Mahal – Bhuj
Kutch Museum – Bhuj
Swaminarayan Temple – Bhuj
Great Rann of Kutch – Dhordo
Black Hill (Kalo Dungar)
Hodko Village (Handicraft hub)
Desh devi Maa ashapura temple – Mata na Madh
Vijay Vilas – Mandvi
Beach – Mandvi
72 Jinalay (Jain Mandir) – Mandvi
Places to Visit in Kutch is not ends here…
*There is so many things also to do in kutch which is not a less than wonder…
Shopping in local market of bhuj kutch
See the Handicraft market
Enjoy the best and tasty street food
Bike riding
Enjoy the trekking and forest adventures with friends in a Rann of Kutch Tour Packages
White desert safari
Rann of kutch wildlife sanctuary